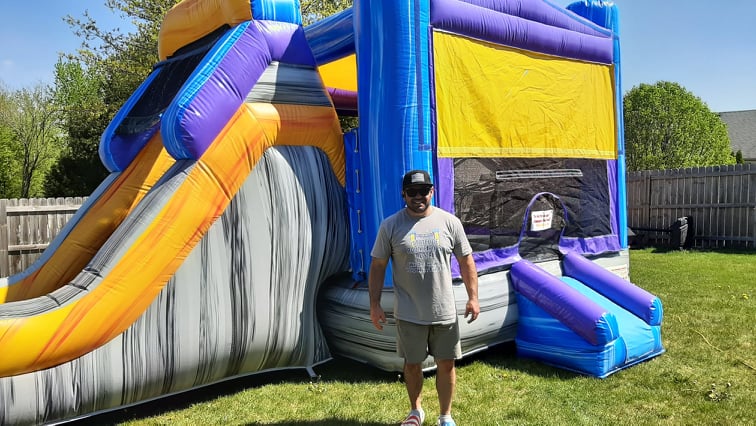 We hire employees for part-time seasonal positions. Our season generally starts around Easter and ends around Halloween weather permitting. The bulk of our work occurs on Friday, Saturday, Sunday and Tuesday. On Friday, Saturday and Sunday we are focusing on delivering and picking up party rental equipment including but not limited to inflatables, games, concessions, tables and chairs. On Tuesdays we focus on cleaning and re-organizing equipment that was out for rental from the previous weekend and preparing the equipment for the upcoming weekend of rentals. Most shifts are 6-10 hours. Shifts can be in morning, afternoon or in the evening depending on the workload. Some employees work 6-10 hours per week and others work up to 40+ hours so we have a wide variety of options to fit your schedule.

We generally hire consistently for 3 different positions. Some of the positions share responsibilities. See below for descriptions and employment application form. We are always looking to bring in additional team members.

All team members are required to have the following:

*Friendly and Can-Do attitude
*Ability to follow directions and work independently
*Ability to lift 75lbs minimum
Cleaning Crew

$10-$12 per hour
We typically do all cleaning on Tuesdays. This is when we take all equipment from the prior week's rentals and clean and organize. For example, an inflatable that was rented on Saturday may need to be set up and vacuumed and sanitized and put back away in it's appropriate place. Our trucks and trailers may need to be re-organized and cleaned out to be ready for the upcoming deliveries. This position requires team work and is usually a 4 hour shift.

This is a great position for younger team members. This is also a great position as a training ground to be a permanent member of our delivery teams and eventually to be a team leader. Our younger employees start out in the cleaning crews and over each season as they gain experience they can move up to other teams and go out into the field and make deliveries
Delivery Crew Team Member

$12-$14 per hour + tips
Delivery Crew Members are able to do everything basically except drive. Delivery Crew Members are responsible for the delivery process which includes accurate, on time, clean, safe deliveries of party rental equipment. Members will also assist the Team Leader in navigation of routes and communication with customers. Delivery crew members also often are part of assisting with cleaning crew depending on availability.

Delivery Team Members are a great training ground to be promoted up to Team Leaders. This position is excellent for people that are looking for supplemental income or a great seasonal job for somebody in high school or college. This position pays $12-$14 per hour plus tips.
Delivery Crew Team Leader

$15-$18 per hour + tips
Team Leaders are responsible for leading team members and cleaning crew members and for driving trucks and trailers. Team Leaders are ultimately responsible for safe, clean and on-time deliveries. Team Leaders communicate regularly with customers to inform them of delivery times, train the customers on using the equipment, make sure delivery agreements are signed, and often times collect payments.

Prior experience driving a trailer is preferred but not necessary as we will train the right candidate.