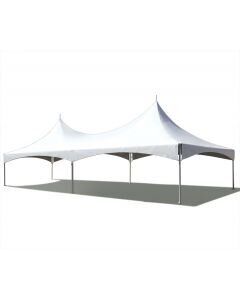 20x40 High Peak Tent
Actual Size: 16ft 9in tall 20ft wide 20ft long





1 day price: $850.00
2 day price: $1,062.50
3 day price: $1,275.00





$850.00

Please call or text 815-980-6138 to reserve this item we do not take auto reservations for this item

This versatile 20' x 40' High-Peak Frame PVC Party Tent is designed for quick and easy setup and can be assembled anywhere - on grass, in convention centers for indoor tradeshows, in parking lots for concession businesses and more.
In addition to their aesthetic appeal, these high-peak frame tents are popular because they have fewer fittings and parts than traditional pole or frame tents. This 800 sq. ft. tent has an eave height of 8'. High-peak frame tent units have no center poles or obstructions that touch the ground in the center of the tent; instead, they use cross cables and a frame tension design to optimize room to accommodate guests and/or equipment.
The one-piece tent top of this premium unit is made of the best quality 16-ounce blockout PVC vinyl. This provides 100% waterproof shelter that is resistant to mold, mildew and flame. All panels on the top are bonded with 1" heat-sealed, overlapping seams for added strength and durability.
Seating Capacity varies depending on the layout and table selection but can do up to 100 seated or 160 standing guests total covered area of 800sq ft