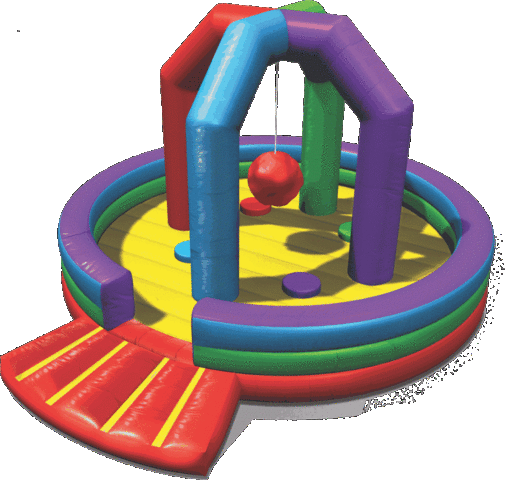 4 Player Wrecking Ball
Actual Size: 25ft wide 25ft long 15ft tall
Outlets: 1
Age Group: 5 and up





Regular Price: $449.00
Over 6 Hours: $516.35
Overnight: $583.70
Multi-Day: Regular Price 1st Day Half Price 2nd Day!



Introducing the ultimate party game - the 4 Player Wrecking Ball! Get ready for hours of laughter, excitement, and friendly competition with this thrilling multiplayer experience.
Gather your friends and family and prepare to swing into action. The 4 Player Wrecking Ball allows up to four players to simultaneously battle it out on a unique inflatable arena. Each player takes control of a giant wrecking ball and must strategically swing, dodge, and smash into their opponents to be the last one standing.
With its durable construction and easy setup, this game is perfect for outdoor events, birthday parties, or even team-building activities. The 4 Player Wrecking Ball is suitable for players of all ages, making it a fantastic choice for both kids and adults.
Engage in epic battles as you try to knock your opponents off their feet. The exhilarating gameplay will keep everyone on their toes, as you strategize your swings and anticipate your opponents' moves. The soft inflatable design ensures a safe and enjoyable experience for everyone involved.
Not only is the 4 Player Wrecking Ball a blast to play, but it also provides endless photo opportunities. Capture the hilarious moments as players try to maintain their balance or launch themselves towards their opponents. Share these memories with friends and family, and relive the excitement again and again.
So, what are you waiting for? Take your party or event to the next level with the 4 Player Wrecking Ball. Unleash your competitive spirit, bond with your loved ones, and create unforgettable memories that will be talked about for years to come. Get ready to swing, smash, and conquer in this action-packed game that guarantees endless fun.
Base Price Displayed = 6 Hours
7 - 10 Hours = only 15% more!
Party all night long for only 30% more!
Add a 2nd Day for 50% More!
Price will automatically adjust in cart
25% down is required to reserve