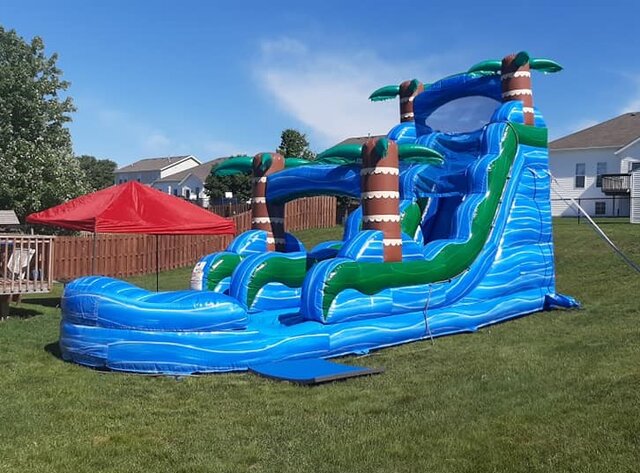 Blue Hurricane18ft Single Lane Waterslide
Actual Size: 18ft Tall 11ft wide 32ft long





Regular Price: $389.00
Over 6 Hours: $447.35
Overnight: $505.70
Multi-Day: Regular Price 1st Day Half Price 2nd Day!



Here I am....dunna dunna...Rock you like a HURRICANEEEEE! Sorry...now that song is stuck in your head. Now get this stuck in your yard! In the warm season this goes quickly so book in advance. It's the perfect size for most backyards.
7 - 10 Hours = only 15% more!
Party all night long for only 30% more!
Add a 2nd Day for 50% More!
Price will automatically adjust in cart
25% down is required to reserve
Here is our 18ft Rock You LIke a Hurricane Waterslide. A great rental for any event! It's also super safe...the pool area has a giant landing pad style bumper and is filled with water so as the kids come rushing down they have a soft landing area and if not filled with water then acts like a bumper. The color scheme is what people really like it has awesome electric colors! Boys and Girls both like the color scheme so it's very versatile. Smaller kids won't be scared of it's size and bigger kids won't be bored. It's really right in the middle so it can appease all age groups. The manufacturer of this unit is HEC Inflatables. Add it to your cart now!
Don't forget to grab a game and concession too!