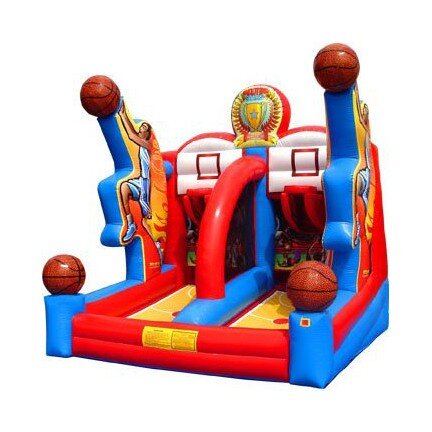 Shooting Stars Basketball Game
Actual Size: 16ft wide 17ft deep17ft tall
Outlets: 1
Age Group: 1 and up





Regular Price: $219.00
Over 6 Hours: $251.85
Overnight: $284.70
Multi-Day: Regular Price 1st Day Half Price 2nd Day!



Introducing the Shooting Stars Basketball Game, the ultimate hoops experience for basketball enthusiasts of all ages! This thrilling game is designed to bring the excitement of the court right into your living room.
Get ready to shoot, score, and compete like a pro with the Shooting Stars Basketball Game. The set includes a sturdy, easy-to-assemble basketball hoop, complete with a durable backboard and a realistic-looking net. The hoop can be adjusted to different heights, making it suitable for players of all skill levels, from beginners to seasoned athletes.
The Shooting Stars Basketball Game also comes with a high-quality basketball, specifically designed for optimal grip and bounce. This ensures that every shot you take feels just like playing on a professional court. The ball is made from premium materials that are built to last, ensuring countless hours of fun and competitive play.
Whether you're playing solo or challenging your friends and family to a friendly game, the Shooting Stars Basketball Game guarantees hours of non-stop entertainment. Sharpen your shooting skills, practice your layups, and perfect your three-pointers with this engaging and immersive experience.
Not only is the Shooting Stars Basketball Game a blast to play, but it also offers numerous benefits for physical and mental development. Engaging in regular physical activity helps improve coordination, motor skills, and overall fitness. Additionally, playing basketball can enhance strategic thinking, decision-making, and teamwork abilities.
Setting up the Shooting Stars Basketball Game is a breeze, and it can be easily transported and stored when not in use. Its compact design allows for indoor or outdoor play, making it the perfect addition to any home, backyard, or community center.
Whether you're a basketball enthusiast or simply looking for a fun and engaging activity, the Shooting Stars Basketball Game is a must-have. So grab your basketball shoes, channel your inner superstar, and get ready to shoot for the stars!

Base Price Displayed = 6 Hours7 - 10 Hours = only 15% more!
Party all night long for only 30% more!
Add a 2nd Day for 50% More!
Price will automatically adjust in cart
25% down is required to reserve