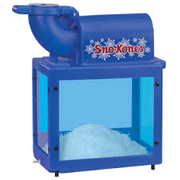 Sno Kone Machine




Regular Price: $50.00
Over 6 Hours: $57.50
Overnight: $65.00
Multi-Day: Regular Price 1st Day Half Price 2nd Day!



Sno Kone Machine does not come with supplies. Once you add to your cart there will be items required to select such as syrup, straw spoons and cones. We do no supply ice so you will need to supply your own ice and also the machine is table top so you will need a table to put it on. If you need a table you can add one from us :)

7 - 10 Hours = only 15% more!
Party all night long for only 30% more!
Add a 2nd Day for 50% More!
Price will automatically adjust in cart
25% down is required to reserve